Our Loyalty Program
At Carolina Eye on Merrimon, we are committed to our patients.
We are a local, woman-owned, and independent small business in Asheville. Because of this, more of the dollars you spend in our office stay in the local community, rather than buying from big box stores or online. We value you – our patients – and our small business community. To us, you are not simply a name or number; you are an individual, unique and special, just like Asheville.
Being proud members of the Just Economics and Asheville Grown Business Alliance, we want to give back to you, and our community. We have created a loyalty program for our patients.
This subscription-based benefits program provides benefit to our patients and supporting area by reducing the cost of service, and getting you discounts at other Go Local businesses in Asheville.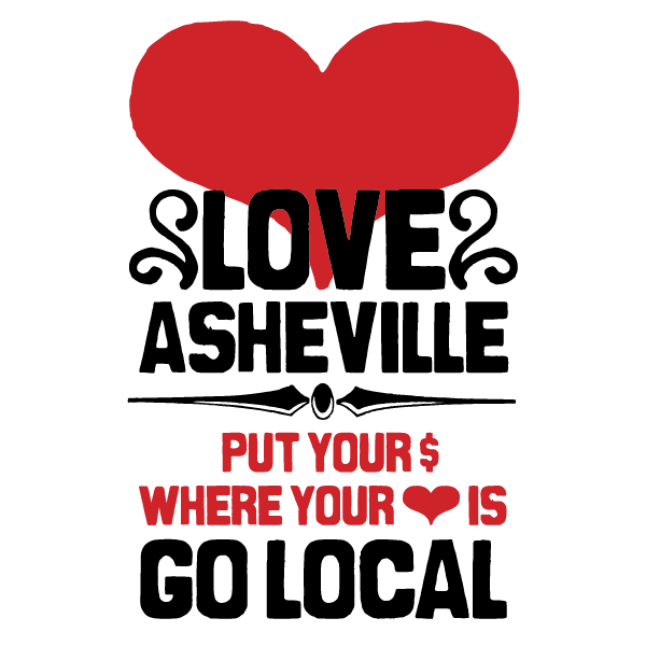 The value of our loyalty program extends up to $380 with Carolina Eye Care, and you only pay $69.
This page outlines the benefits of joining our movement to reclaim our independence from big box stores and keep your resources supporting our local economy!
To learn more about terms and conditions this loyalty program is subject to, get in touch with us today.
Community Benefits
Begin a part of our member program grants you access to discounts and other benefits to other Go Local Businesses in Asheville.
Glasses Benefits
The following glasses-related benefits are
included with your membership:
Go Local card – $20 value, plus savings at over 500 local businesses
Screws and nose pads – $12 value
Free 2 oz. lens cleaner – $3 value
Free PEEP cleaner – $15 value
20% off complete pair of glasses – $75-$200 value – exclusions apply
Free sunglasses (in lieu of 20% discount) – $99 value
Waiver of warranty fee – $30 value
Extended repairs available
Expanded Frame Warranty
All frames include a 1-year warranty against manufacturing defects; some examples are chipped paint and/or malfunctioning hinge or mount.
However, manufacturers' warranties do not include other types of damage, including pet damage, twisting and bending, stepping or sitting on your frame, or damage by a vehicle.
This expanded warranty is valid for 2 years from the date of purchasing a pair of our frames. While we will make every effort to replace your frame under this program, we do reserve the right to restyle your frame when necessary.
Members of our Loyalty Program are eligible for waiver of warranty administration fees.
Contact Lens Benefits
The following contact lens benefits are included with your membership:
Go Local card – $20 value, plus savings at over 500 local businesses
Free shipping – $12 value per shipment
$25 off order of an annual supply of contact lenses
Free sunglasses (with purchase of annual supply of contacts) – $99 value
Questions?
If you have any questions about what is included in our Loyalty Program, how to get involved, or about the terms and conditions of the program, contact us and we will be happy to answer your questions.